Essential CBD Serum
The Essential Hemp CBD Serum was Ology's original CBD topical, and it is still one of our favorites for overall wellness. This premium topical contains the powerhouse ingredients of full spectrum hemp cbd from industrial hemp, frankincense essential oil and BCP (beta-carophyllene) from copaiba essential oil. We truly don't think anything could be better than this union of ingredients!
150 mg of Full Spectrum Hemp CBD
Ethically Sourced Essentials Oils
For Topical Use Only
Save 25% on your monthly Essential CBD Serum by signing up for our subscription program!
Add to Wishlist
The Essential Serum is the perfect topical for overall wellness – it can be used as a facial serum, body serum, or even a bath oil.
Ingredients:
Tocopherol (Vitamin E), Caprylic/Capric Triglyceride (Fractionated Coconut) Oil, beta-Caryophyllene from Copaifera langsdorfii (from Copaiba) Essential Oil, Boswellia carterii Birdwood (Frankincense) Essential Oil, and Cannabidiol (full spectrum CBD) from Cannabis sativa (Industrial Hemp).
Our Essential Hemp CBD Serum ingredients are non-GMO, vegan, gluten-free and does NOT contain any fillers or synthetic preservatives.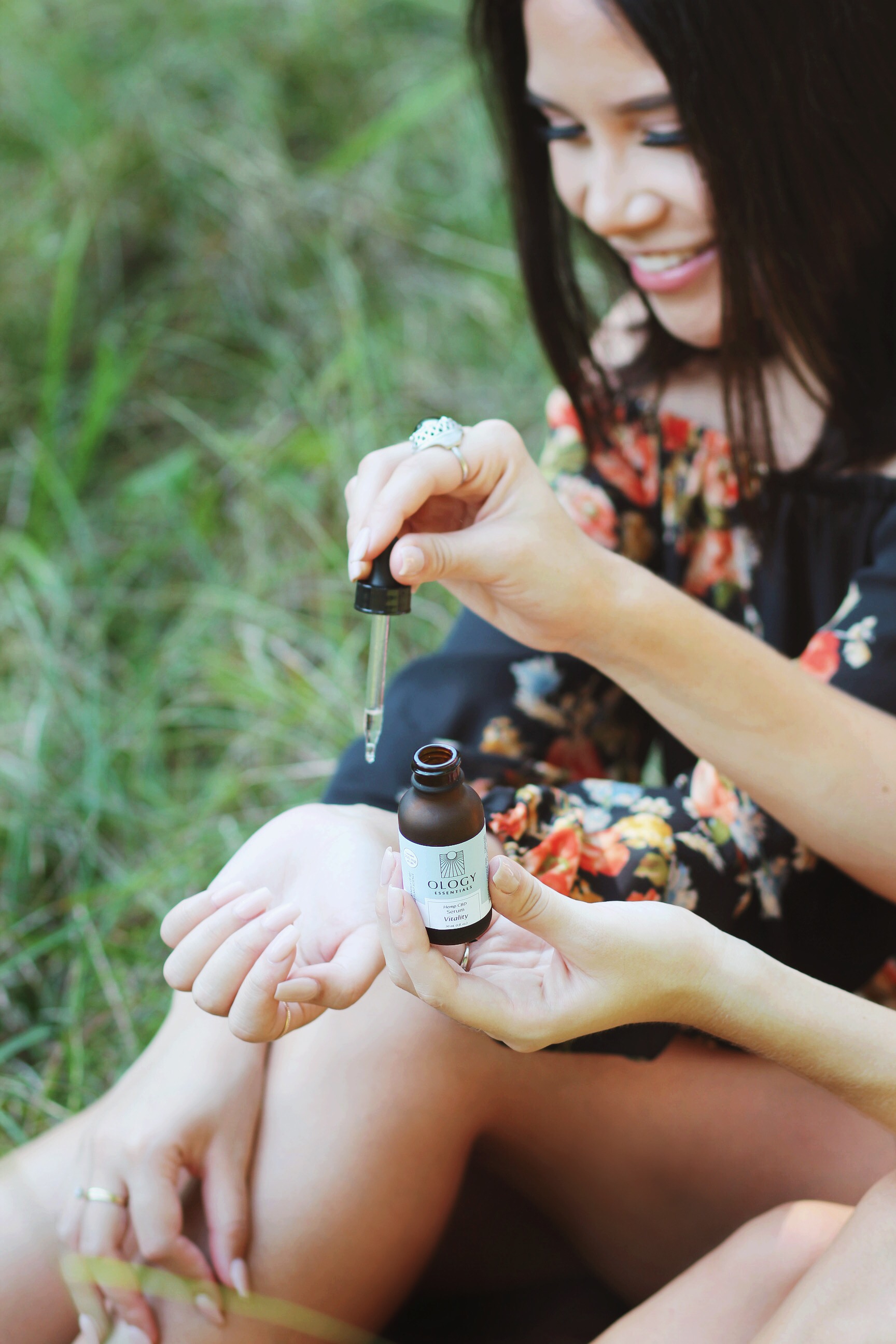 How Does CBD Work Topically?
It is believed that Hemp CBD works faster for localized issues when used topically because the CBD goes directly to the CB1 and CB2 cannabinoid receptor sites in the specific area that it is applied without going through the digestive system.
In a study done at the University of Kentucky transdermal CBD significantly reduced joint swelling, improved mobility and reduced pain for rats with arthritis. The scientific community is still catching up to research on the effectiveness of transdermal Hemp CBD. Antidotal results have been impressive.
The Ology Journal
For the Love of Lavender Essential OilNothing says, "I love you," like Lavender. Well, at least that is the case…
| | |
| --- | --- |
| Weight | 3.2 oz |
| Dimensions | 5 × 1.5 × 1.5 in |
| Size | 30 mL, 120 mL |