Essential CBD Serum (Subscription)
Sign up, get 25% off the standard price and never forget to order your monthly supply of your Essential CBD Serum again!
When life gets crazy, our wellness tends to get put on the back burner. But we truly believe that in order to be balanced and healthy on the outside, you must do the work on the inside. This is why we have created the Ology Essential's CBD Subscription Program – so you will never have to put your wellness on the back burner again.
The Essential Hemp CBD Serum was Ology's original CBD topical, and it is still one of our favorites for overall wellness. This premium topical contains the powerhouse ingredients of full spectrum hemp cbd from industrial hemp, frankincense essential oil and BCP (beta-carophyllene) from copaiba essential oil. We truly don't think anything could be better than this union of ingredients!
150 mg of Full Spectrum Hemp CBD
Ethically Sourced Essentials Oils
For Topical Use Only
Add to Wishlist
The Essential Serum is the perfect topical for overall wellness – it can be used as a facial serum, body serum, or even a bath oil.
Ingredients:
Tocopherol (Vitamin E), Caprylic/Capric Triglyceride (Fractionated Coconut) Oil, beta-Caryophyllene from Copaifera langsdorfii (from Copaiba) Essential Oil, Boswellia carterii Birdwood (Frankincense) Essential Oil, and Cannabidiol (full spectrum CBD) from Cannabis sativa (Industrial Hemp).
Our Essential Hemp CBD Serum ingredients are non-GMO, vegan, gluten-free and does NOT contain any fillers or synthetic preservatives.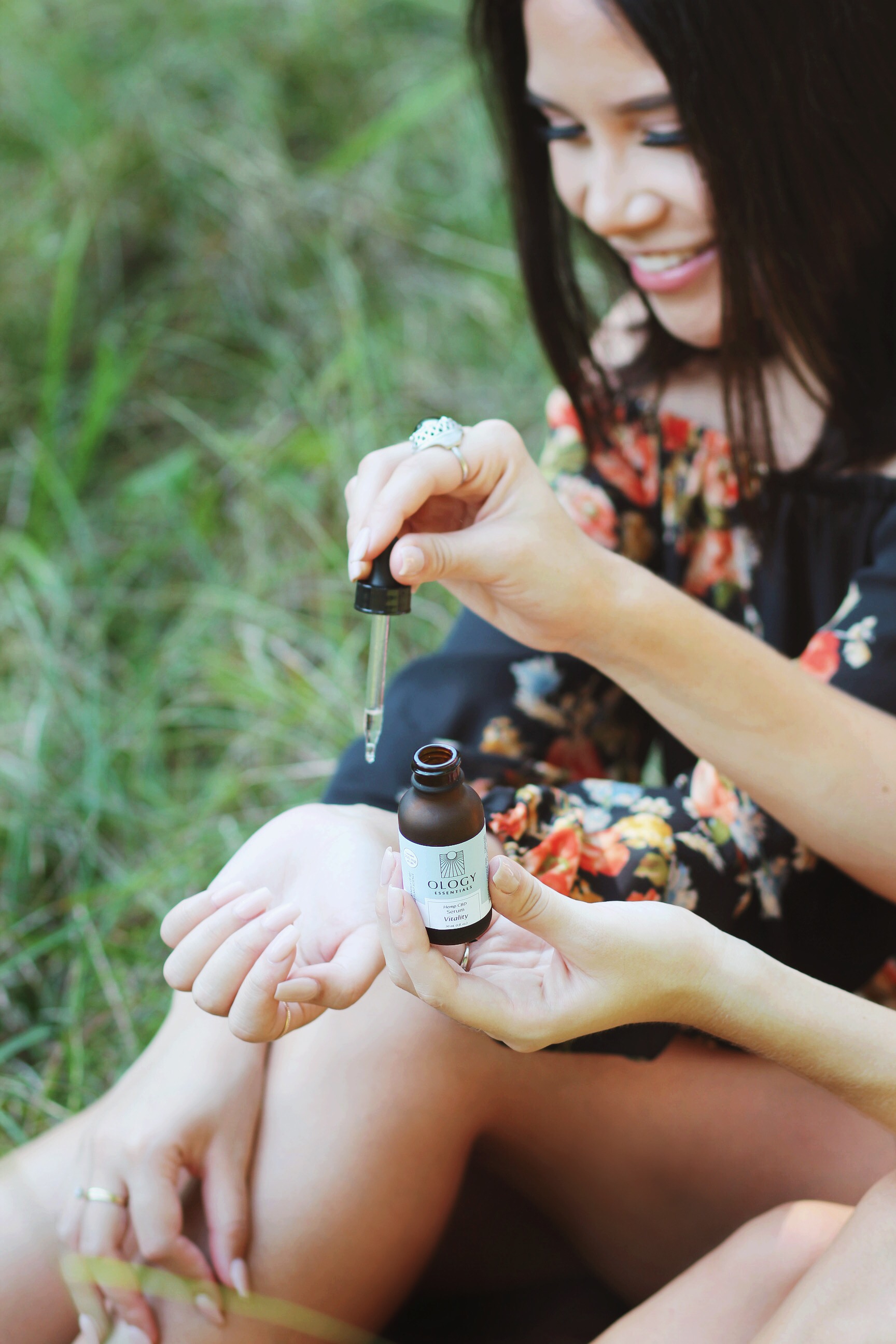 How Does CBD Work Topically?
It is believed that Hemp CBD works faster for localized issues when used topically because the CBD goes directly to the CB1 and CB2 cannabinoid receptor sites in the specific area that it is applied without going through the digestive system.
Ology Essentials has combined the power of CBD, aromatherapy and herbal medicine to create beautifully synergistic topicals that will keep you nourished, balanced and glowing – inside and out!
The Ology Journal
Hiking in Harmony: Exploring the Benefits of Hemp CBDI (one of the owners here at Ology Essentials) recently went on…
| | |
| --- | --- |
| Weight | 3.2 oz |
| Dimensions | 5 × 1.5 × 1.5 in |
| Size | 30 mL, 120 mL |