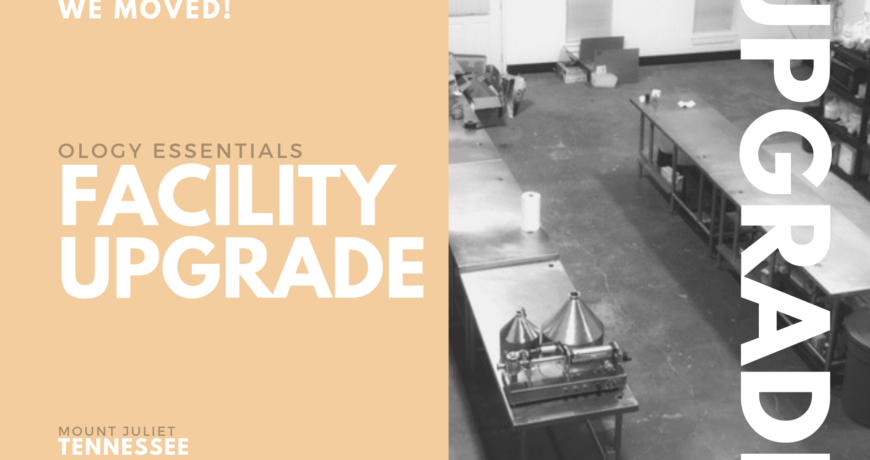 Ology Essentials' Facility Upgrade
We have moved!
If you have been with us since the beginning, you have seen the stages of our growth as a company. It has been a crazy ride the past year and a half, and we really cannot believe how far we've come. That being said, we just want to take a moment and celebrate the fact that we hit our biggest growth spurt yet! At the beginning of May, we moved into a larger facility in Mount Juliet, Tennessee. Mount Juliet is about 20 minutes outside of the Nashville, although anywhere within a 30 minute radius of Nashville, is still considered Nashville – right? We are now sitting on a huge plot of land surrounded by trees and bordering Percy Priest Lake. It's pretty much the dream!
So for the past month we have been preparing the space for production – fixing up the plumbing and electrical, having fun with painting and decorating – the whole works! It was all hands on deck as friends and family worked together to get this facility up and running. And while she is still in need of some lovin', we think she's coming along quite nicely.
We are so thrilled to have made it to this point, and it is all because of our loyal customers. We could not do it without you. Because of this move, we are able to scale up production, brainstorm ideas for even more products, and create bigger and better content!
We're growing so fast that we might just out grow this facility in the near future, but for now, we are thoroughly enjoying this new space. Everyone has their own office, there are two huge manufacturing rooms, a lab, a conference room, and a kitchen! (You wouldn't believe how much coffee is brewed in that kitchen on a daily basis – it's safe to say that we are all running on coffee.)